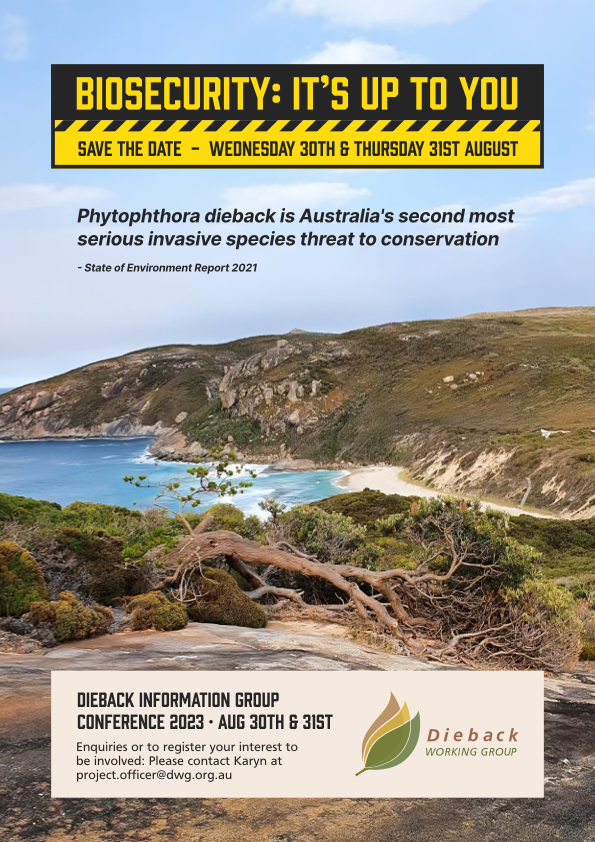 Our annual Dieback Information Group conference will be held on the 30th and 31st August! Don't miss out and make sure to save the date in your calendars! DIG brings together the latest in scientific knowledge, best land management practices and industry innovation.
This conference is an excellent opportunity for people from a wide range of sectors working in the biosecurity space to come together and share new science, tools, communication strategies and experiences in the management of Phytophthora Dieback and other closely related biosecurity concerns.
This year's theme is Biosecurity: It's Up to You! Through the use of this theme, we will explore the shared nature of our environmental biosecurity system, particularly in WA where vast areas and relatively low population density means that we all need to be aware of potential new threats to our environment and how to report them.
The first of the two days (August 30th) is the conference, with the second day (August 31st) consisting of a field trip at Hanson.
Tickets available now, so don't miss out! Click the picture above or follow the link below to secure your place at the much anticipated DIG Conference for 2023!
For questions and queries about DIG, please contact [email protected]