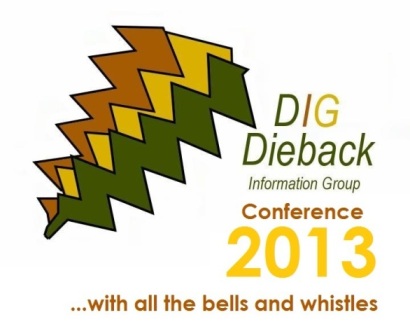 DOWNLOAD: DIG Conference 2013 Presentation abstracts
The 12th annual Dieback Information Group conference date was held on Friday 28th of June 2013.
The conference presented the latest developments in Phytophthora dieback management, research and on-ground projects from the perspective of speakers from government agencies, local government, industry groups, researchers and conservation groups. These developments change the way we manage Phytophthora dieback and help in our fight against the spread and devastating impact of these pathogens.
DOWNLOAD: DIG 2013 flyer
DOWNLOAD: DIG 2013 Venue
DOWNLOAD: DIG Conference 2013 Speakers
As part of the 2013 DIG conference we held a field trip on the Saturday 29th of June to tak a look at the Phytophthora Dieback impact and management at several sites across the Perth Region.
DOWNLOAD: DIG 2013 Field Trip
State Library of Western Australia, Cultural Precinct, Perth (underground car-park off Francis St)
Friday 28th of June 2013
Conference Videos